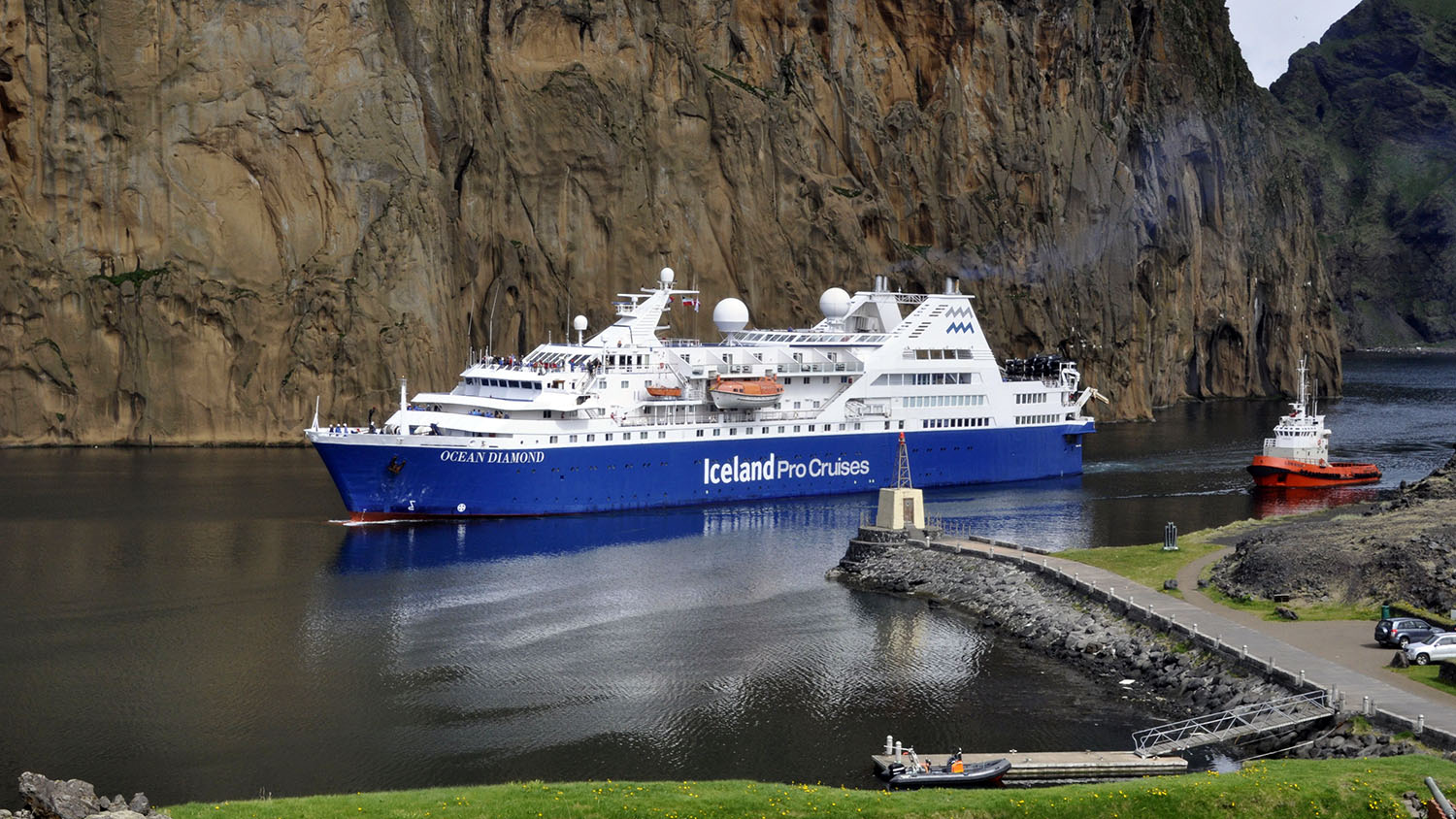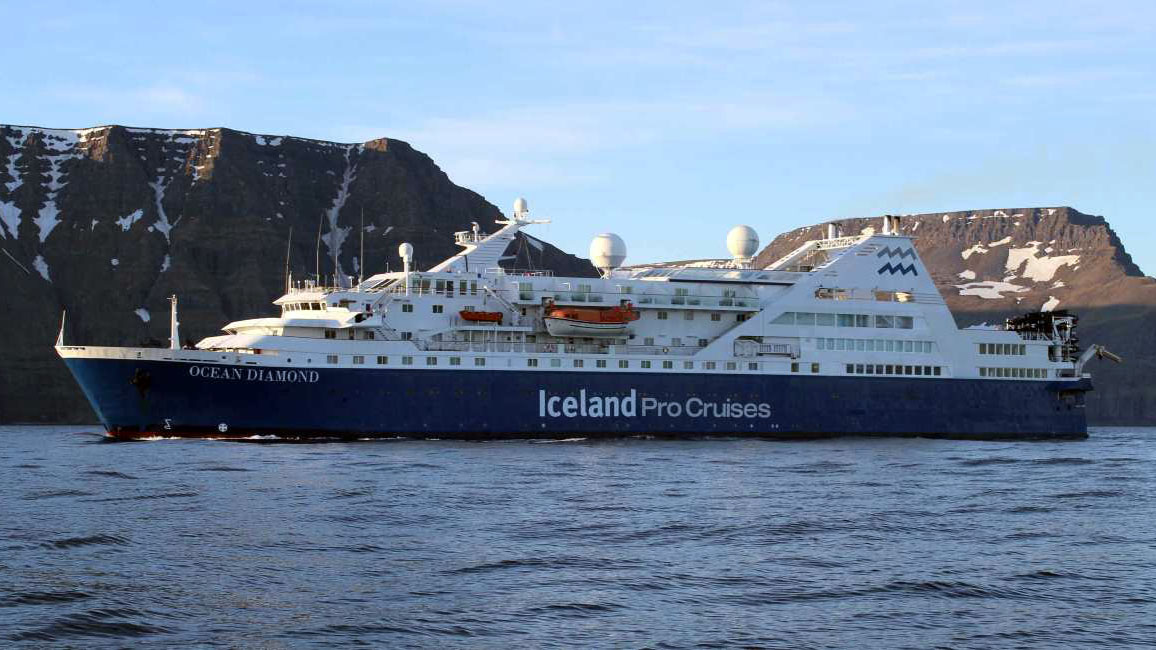 Ocean Diamond
As one of the fastest, and most eco-friendly ships in Antarctica, it is also one of the most comfortable. There are 101 elegantly designed cabins and suites, all with exterior views, and expansive common spaces, a club lounge, and a spacious restaurant. The ship offers numerous adventure options, plus on-board features such as interactions with photography instructors. After a full day of exploration, passengers can relax, browse books or DVDs in the well-stocked polar library, or enjoy stunning polar scenery from the sun-lit, panoramic observation lounge.
Ocean Endeavour
Ocean Endeavour is a comfortable, well-appointed small expedition ship expertly engineered to explore the Polar Regions. The ship has an ice-strengthened hull, Zodiacs for exploration and remote landings, generous deck space and advanced navigation equipment.
The ship offers a superb guest experience with a nautical lounge, two restaurants, sundeck, and plenty of deck space for observation of polar landscapes, and lounges for learning and reflection. The ship's interiors have a contemporary aesthetic that provides a bright and spacious feel to the cabins and common spaces.
Ocean Atlantic
Ocean Atlantic is the perfect vessel for expedition cruising in Antarctic waters! Newly renovated in 2016 and with an international ice class rating of 1B, she is one of the strongest ships operating in Antarctica. Her high maneuverability, shallow draft and strong engines allow for extended voyages into isolated fjords, creating exciting adventures for any Antarctica traveler.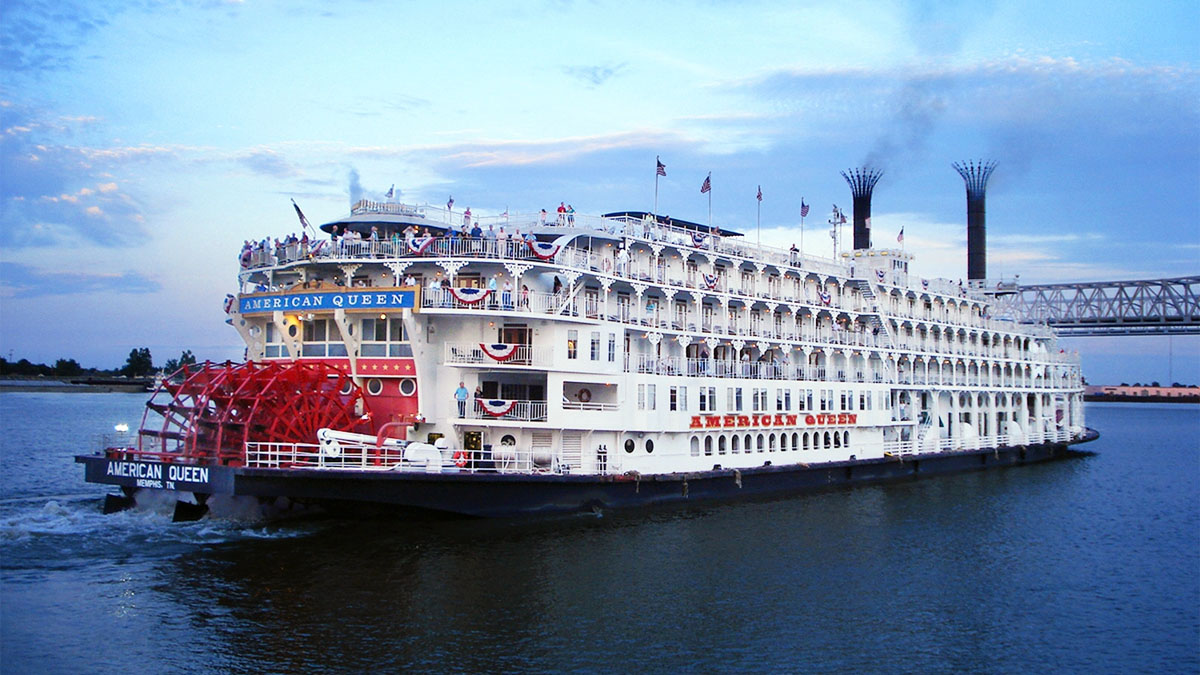 American Queen
Climb aboard an iconic steamboat and explore a slice of American history on our Mississippi River cruises. Offering a unique on-the-river perspective, our voyages create the perfect getaway for nature and history lovers alike. Enjoy our richly appointed paddlewheelers and steamboats that offer beautiful staterooms and suites, restaurants and spacious decks for watching the river sights go by.
A Mississippi river cruise is the perfect getaway for nature lovers and history buffs alike. Join us for an unparalleled journey through authentic America; it is a unique experience unlike anything you have ever encountered!
Louisiana
We are delighted to have the singular pleasure of introducing America's premium river cruise tour. Sail from the charms of the Mississippi Headwaters along the upper Mississippi to the intoxicating Creole, Cajun, and French tapestry of the Deep South. From the River Crossroads of the Ohio River Valley to the rugged beauty of Tennessee's Wilderness Rivers region, the Louisiane will sweep you off your feet. With the soul of a romantic and the enthusiasm of an explorer, she has been specifically designed to offer unique itineraries such as voyages along the Red River, Arkansas River and the Illinois River. French America Line celebrates the cultural and epicurean influences of la belle France mixed with warm Southern hospitality and refined, unobtrusive service. We invite you to experience river cruising in America like never before. Bon voyage!
Victory I & Victory II
Refined, intimate ship experiences The indisputable joy of sailing is brought to life on the M/V Victory I and II, agile intimate ships that easily navigate canals and locks, tranquil bays, and hidden ports where larger ships dare not go. Onboard, our fresh, modern design tips its hat to our maritime past as spacious open-air lounges, inviting dining venues, and generous windows ensure you never miss a chance to savor the spectacular view.
Greg Mortimer
The Greg Mortimer redefines expedition cruising for the future, with just 120 passengers on board in the polar regions. Not only is the ship bigger to contend with adverse weather conditions, its added creature comforts make for a more enjoyable journey out on the open ocean. The Greg Mortimer remains true to our ethos and focus on multiple landings, flexible itineraries and family atmosphere – just with an improved home base! As a modern and custom-designed ship, the Greg Mortimer is at the cutting edge of nautical technology. Robust, powerful and built with our guests in mind, this ship marks a significant investment in our fleet's capabilities. From the European Arctic to the depths of Antarctica, and other far-flung destinations in-between, the Greg Mortimer will make your journey a breeze!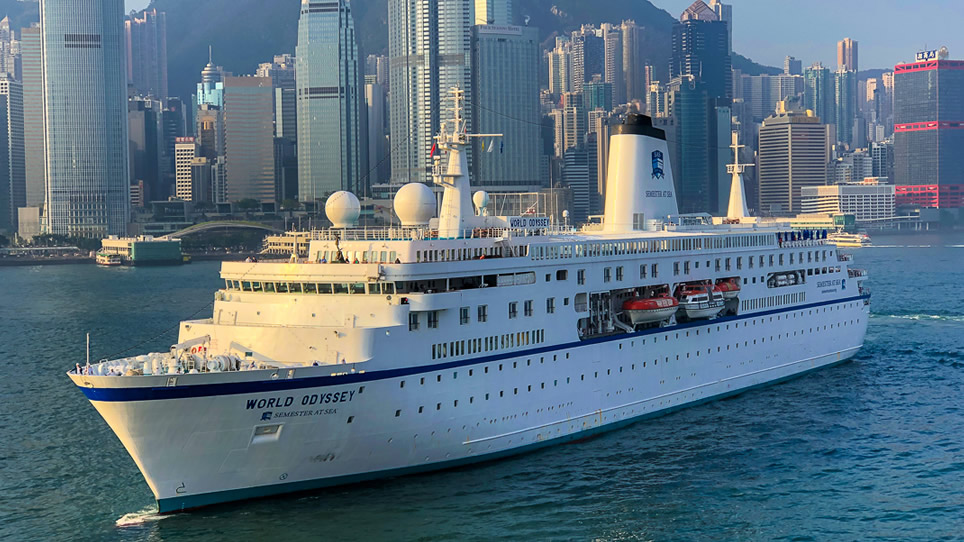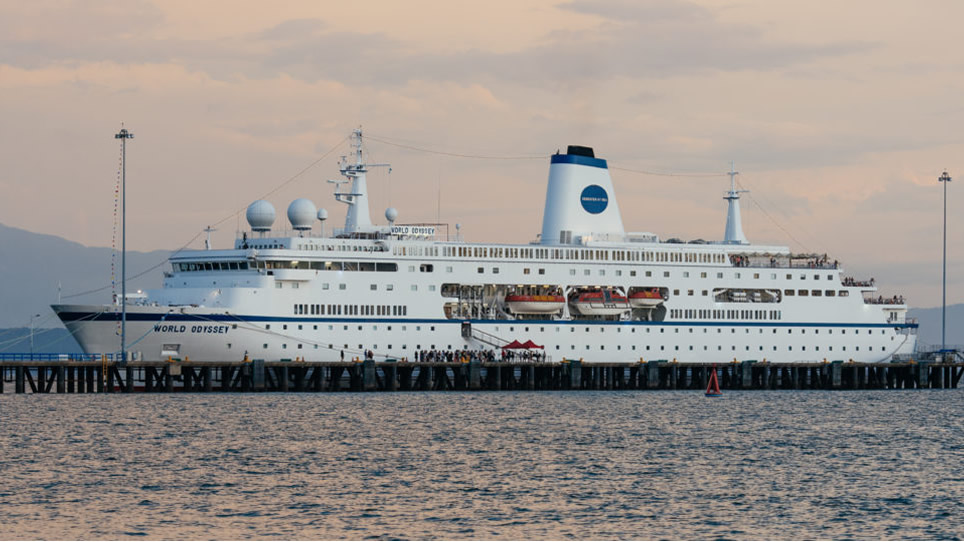 World Odyssey
The MV World Odyssey is home to one of the most unique university campuses in the world. Semester at Sea, operated by the non-profit Institute for Shipboard Education and academically partnered with Colorado State University, is a university study abroad program unlike any other. Twice a year (fall and spring voyages), the MV World Odyssey carries approximately 600 college and university students from around the world (accompanied by a team of expert faculty, staff, and crew) on a once-in-a-lifetime journey to 10-12 different countries. Similar to a land-based campus, the MV World Odyssey is designed with student learning and exploration in mind, featuring nine classrooms, a library, and computer lab, in addition to elegantly appointed cabins, multiple fitness and sports areas, an outdoor pool, wellness centre and spa, and three indoor and outdoor dining options.
American Countess
The newest gem in our riverboat fleet, American Countess welcomes 245 guests along the Tennessee, Ohio, Cumberland, and Mississippi rivers. Her sleek, contemporary design offers plenty of open space for gathering and sharing the fun, and you'll love the great forward-facing windows and the portside bar with an 80-foot view. Savor fresh, regional cuisine in the Grand Dining Room with its custom Italian fabrics and rich walnut accents, the floor to ceiling windows offering panoramic views of the shoreline morning, noon and night. Work out in the contemporary gym with its brand new equipment and a dramatic river backdrop. Relax or watch your flat-screen TV in the inviting surroundings of your stateroom with premium linens and plush bedding. Or make your way to the Card Room, Library or Theater for a friendly game, a new best-seller or live award-winning entertainment. Be one of the first to experience her elegant décor as she makes her way down the mighty Mississippi from the Big Easy to the Home of the Blues.
Ocean Explorer
For those who believe there can never be true synergy between luxury travel and expedition cruising, look no further than on Vantage's first ocean-cruising small ship: the five-star Ocean Explorer. Launching in 2021, the intimately-scaled Ocean Explorer will accommodate up to 170 guests with 77 cabins and a landmark 15 solo cabins. Breathtaking views abound on the ship's soaring multilevel observation lounge and lobby. Relax by the swimming pool, catch a movie on the outdoor movie screen, or be enraptured during curated lectures, programs, musical performances, and cultural events. Vantage's onboard Concierge will cater to a guest's every need, both pre-trip and during the cruise. Fine dining, small passenger-to-crew ratio, and spa amenities and services await on board — along with adventures like small-group wildlife viewing, biking, kayaking and paddleboarding offshore (on select itineraries). What's more, the Ocean Explorer features the latest satellite and navigation technology, including ULSTEIN X-BOW® technology, allowing for smoother sailing and deeper exploration into packed ice, enhancing your comfort as you traverse the world's seas.